Mount Pleasant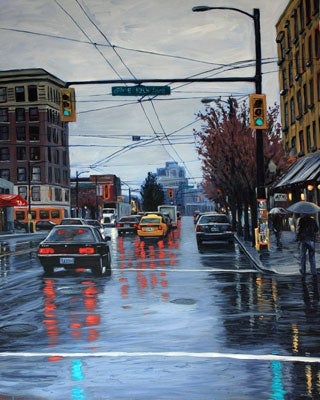 Young professionals, urban hipsters and growing families all come together in the Mount Pleasant / Main Street neighbourhood, to bring to life a young, hip and energetic community.  You will enjoy watching all of them, relax together in the nine parks in the area, unwind at the local restaurants and pubs, and peacefully commute to and from work.

Your day starts by hitting the snooze button that one extra time, as you know your commute to work isn't actually a commute, but a quick jump down the block.  You live right on the boarder, where Vancouver West and the downtown core meet East Vancouver.
You see the potential in the Mount Pleasant neighbourhood, and enjoy watching your community come together.  New restaurants and shops are popping up along Main Street each month, bringing a fresh vibe and new energy to your surroundings.
Weekends are spent piecing together the perfect mix of antique lighting, vintage furnishings and new textiles all found along Main Street, bringing to life an eclectic decor, where each piece tells a story.
For that odd time, when you need to leave this East Vancouver haven, you won't have to go far.  The Mount Pleasant neighbourhood is located centrally bordering not only on Vancouver West, but also Kitsilano, Grandview, and Commercial Drive neighbourhoods.
Perhaps you're a bit "suburb-a-phobic", or maybe being close to work and downtown is a must, whatever the case you love the lifestyle this East Vancouver community offers.  But what you love most of all is the extra vacation that you take each year from the money your saving, as you made an investment, purchasing in an up and coming neighbourhood.
Learn More About East Vancouver's Mount Pleasant
Mount Pleasant Pre-Sales
Pre-Sale Buildings
Mount Pleasant Info
Food + Wine
Schools
Quick Contact
Nels Agerbo | Neal + Tracy Uchida
Blu Realty
#115 - 988 Beach Avenue
Vancouver
B.C.
V6Z 2N9
Phone:
Nels Agerbo (604) 767-9534
Email:
nels@nelsagerbo.com