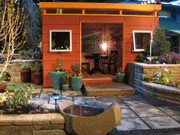 We went to the Home+Design show last weekend and happened upon this great concept - 
A Modern Shed
. Imagine, a detached space in your backyard for an office, yoga studio, guest room, 'woman cave' etc. Forget about the typical backyard shed that holds lawn mowers, cans of paint and smells of old grass clippings & gasoline. These sheds are truly beautiful spaces and could really add a special vibe to your home and lifestyle. These structures are insulated, have heat, power, and there are many material options to choose from to design your dreamy space. This concept really resonated with us as we both work from home and can find it tremendously challenging working amongst all the typical household noises humming around us. In fact, it resonated with us so much we had Geoff from 
Modern Shed
 stop by yesterday to give us some shed ideas for our place. Stay tuned. 
Could a Modern Shed add value to your property? Adding an extra space like this for an office or guest room could interest many potential buyers. This would really make your listing stand out! Give us a shout for our thoughts, and maybe we can bring Geoff along too. 

Did you know that in most cases you don't require a Building Permit for structures under a 100 sf ft.
Modern-Shed
 | 604.551.2485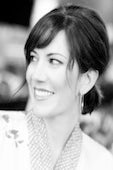 Tracy Uchida | 604.518.5152

Share
Categories
Archives

Subscribe To This Blog