Neal and I were lucky enough to attend the 6th annual Night at the Aquarium fundraiser. It was a beautiful evening and they raised $316,433. One hundred percent of the proceeds will go towards the aquarium's conservation, research and education programs.
There were dozens of participating ocean wise restaurants and wineries serving delicious mini dishes, glasses of bubbly, wine, beer and spirits. 
A few of our favourite and most memorable participants were: 
Curious Oyster Catering
 The oysters, condiments and presentation were amazing and the guys running the show were delightful. If you're throwing a party they would be the perfect accompaniment!  
C Restaurant
 served Ginger Cured Salmon, crisp lemon and ponzu emulsion. My mouth waters just thinking about it! The folks who left the crisp lemon slice behind on their plates did this dish an injustice! 
YEW Restaurant + Bar
 served Crispy Asian Crab Taco, avocado, edamame, pea shoots and lime miso honey dressing. We went back twice for these and thought long and hard about going back a third! 
The Brute Rose from 
Segura Viudas
 went well with everything as did the Prosecco di Valdobbiadene Marca Oro from 
VALDO Spumanti Srl
. I could name more of the wines and spirits we imbibed but I don't want any judging! ;) 
Near the end of the night we sat beneath clear Vancouver skies watching the Beluga Whales swim in the moonlight while we sipped Spanish Lattes from 
Caffe Artigiano
 and ate chocolates from 
Daniel Le Chocolate Belge
 (the salted caramels are out of this world). 
It really was a beautiful evening and a great cause. 
Congratulations 
Vancouver Aquarium
 on a successful and stylish event! 
Tracy & Neal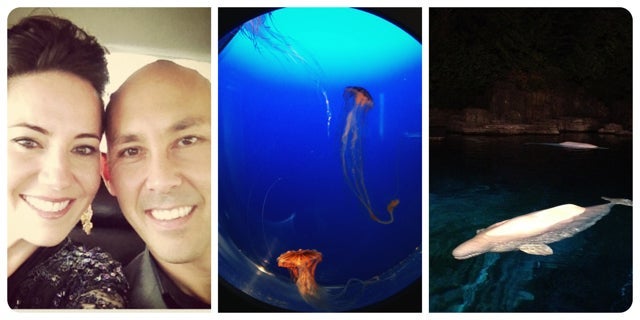 Share
Categories
Archives

Subscribe To This Blog