Main Street has been named one of the top 15 "coolest" streets in North America! It runs north to south from E Waterfront Road to E Kent Avenue.   Main Street is all about unique affordable shopping, food, music, and its select festivals and events which take place throughout the year. This is an area of East Vancouver that locals are drawn to for its stellar community and good vibes. 
The Main Street area was predominately detached homes comprised of character homes, some Vancouver Specials, and others alike.  However, newer condominium developments have made a striking appearance and have really added to the "cool" urban vibe of this area of East Vancouver. 

Mount Pleasant which spans east to west from Cambie Street to Clark Drive, and north to south from 2nd Avenue to 16th Avenue, is a hip and popular neighbourhood with some of East Vancouver's best restaurants, nightlife venues, patios, and pubs- and all while taking in some of Vancouver's gorgeous mountain views.

 Mount Pleasant is booming in the residential real estate market- condominiums in this area of East Vancouver are highly sought after and for good reason! This area of Main Street is easily accessible to transit and within 10 minutes you are in the heart of Downtown Vancouver.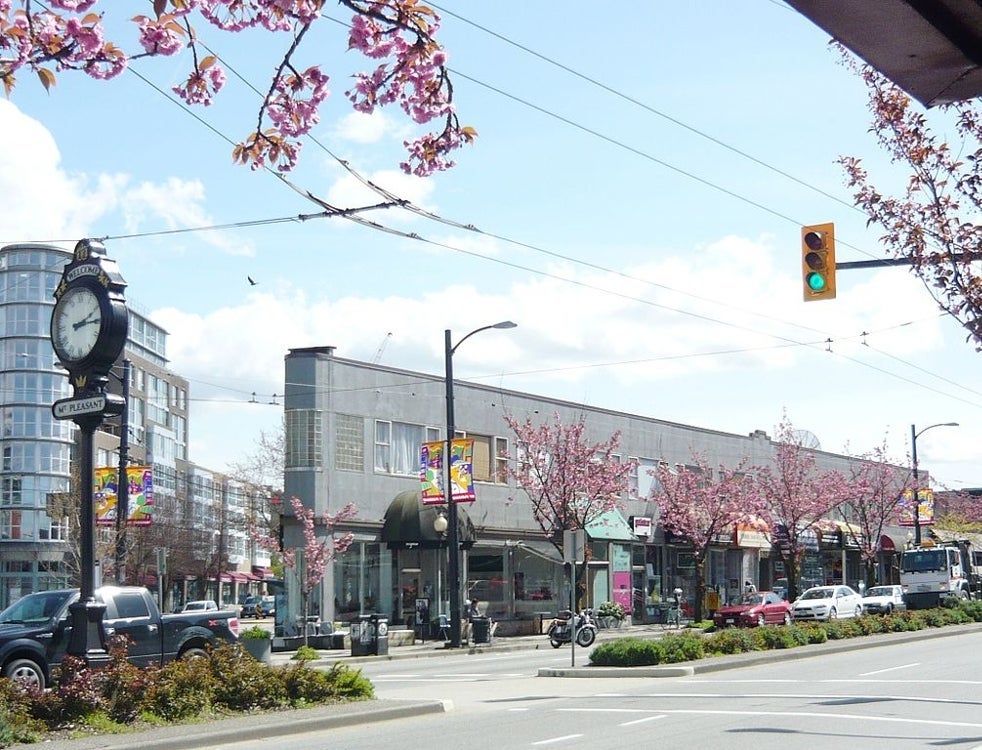 Photo Credit: commons.wikimedia.org
Mount Pleasant is also right by the
Olympic Village
which has incredible restaurants, outdoor entertainment, and spectacular views. Score yourself a condominium within the Mount Pleasant area and you are sitting pretty among this hip and edgy community, incredible shopping and good eats, and views. The Mount Pleasant also has its own all- encompassing community centre and Vancouver Public Library branch.
 Little Mountain Neighbourhood House, just off of Main and 25th Avenue/East King Edward Street, is a fantastic place to connect with others from the community, and there are programs for all ages, including childcare. As well, they offer a settlement services program to serve newcomers to Canada.  

From E 20th Avenue through to E 22nd Avenue is a hugely popular shopping area. There are local fashion shops- which are both stylish and affordable, and a nice array of antique shops.  Between Main Street and E 33rd and E 41st Avenues, Main Street it is mostly residential and moves into South Vancouver's multi ethnic community- predominately of various Asian cultures. This area is alive with culture and home to shops which hold some incredible finds and prices.  

East Vancouver's Main Street has a plethora of amazing restaurants, coffee shops, pubs, bistros- you name it! Incredible spots to meet up for brunch or a coffee, or to be a coffee shop recluse- there are endless options.  As there are plenty of restaurants, there are plenty of parks. Each one is unique in its own way- Tea Swamp Park in Mount Pleasant, is a small but incredibly beautiful park. It has a gorgeous arbour, a playground which has seating off to the side, and a community garden. Not far off is Mount Pleasant Park, which has a large grassy area, playground, community garden, plenty of room to play your sport of choice, walking paths, and a parking lot. 

 Elementary and secondary schools are throughout all areas of Vancouver, and the Main Street district is no exception. Amongst these schools is Reach for The Stars Montessori school that sits at E 13th Avenue and Main Street. Preschool and daycare centres are throughout the Main Street surrounding areas as well- No matter the age of your child, you have your options.  

The SkyTrain and buses are incredibly accessible around the Main Street district, which makes it a breeze to get around this neighbourhood, into downtown, or further east to west.  

Quick Contact
Nels Agerbo | Neal + Tracy Uchida
Blu Realty
#115 - 988 Beach Avenue
Vancouver
B.C.
V6Z 2N9
Phone:
Nels Agerbo (604) 767-9534
Email:
nels@nelsagerbo.com